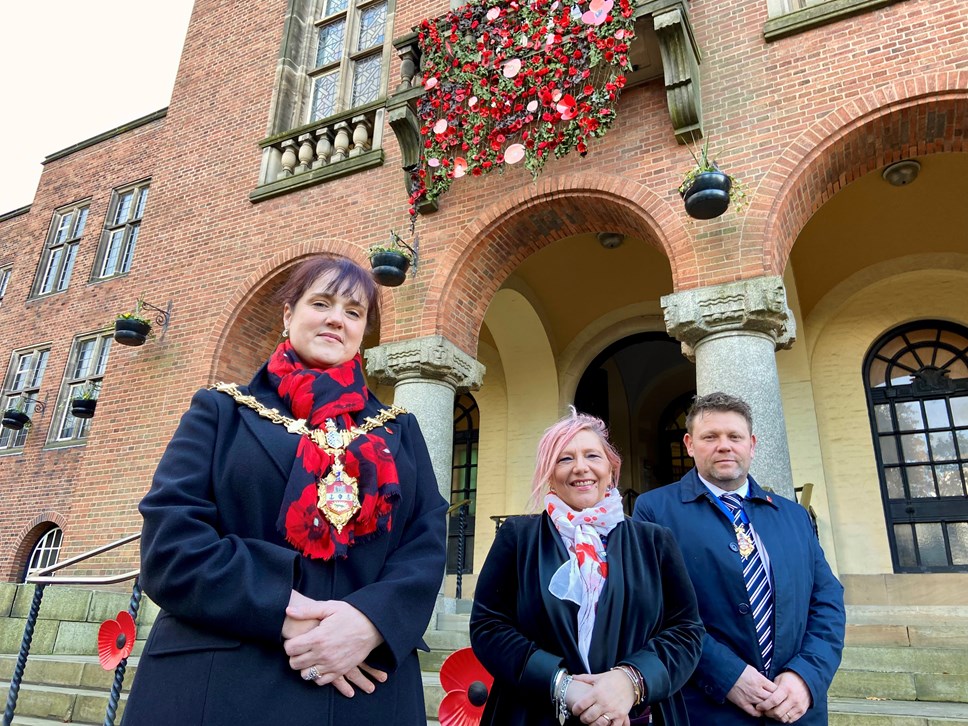 Poppy cascade marks build up to Remembrance service
The Mayor of Dudley will be joining armed forces representatives for the annual Remembrance Sunday service and parade through the town.
A cascade of poppies has been added to Dudley Council House in preparation for the event on November 12.
The display has been organised by local Poppy Appeal Organiser Rose Cook-Monk with another installation has been added to Dudley Castle.
The Dudley Council event on November 12 will include a parade through the town and a service at the cenotaph in Ednam Road.
Dudley Council has organised the event which will start with a parade from Top Church at 10.30am.
A service will take place at the cenotaph, led by Reverend James Treasure with the Mayor of Dudley, from 10.40am.
Councillor Andrea Goddard, Mayor of Dudley, said:
This is always a special occasion when we remember the incredible work of the armed forces and pay our respects to the people who gave the ultimate sacrifice during conflict. I hope people will join me for a very special service.

We're also very grateful to the community, led by Rose, for their work in creating the beautiful poppy display on the council house.
Rose Cook-Monk, Poppy Appeal Organiser, added:
We have made these installations for a few years now and they have been very striking on the nearby Dudley Castle. We thought including the council house this year would make a beautiful backdrop for the remembrance service and it has been a real honour to be involved in.
The council is also aware of a number of privately organised remembrance events taking place across the borough.
It includes a service in Grazebrook Park, Grazebrook Road, Dudley, from 9am on November 12.
Wreaths will be laid at the Peace Memorial in Stevens Park, Quarry Bank, on November 12, from 10.40am. There will also be a two-minute silence.
There will be a parade through the streets of Halesowen town centre on November 12 followed by a service at St Johns church at 11am.
On November 10 there will be an event at The Shell on Long Lane, Halesowen, from 7pm. The Deputy Lieutenant of the West Midlands and Mayor of Dudley will attend the event.
A number of road closures are taking place across Dudley borough to help the service and parades run safely.
A full list of road closures can be found on the council's website https://www.dudley.gov.uk/media-centre/communications/latest-traffic-information/
Contact Information
Dudley Council
Notes to editors
Pictured: Councillor Andrea Goddard, Mayor of Dudley, Rose Cook-Monk, poppy appeal organiser and Councillor James Clinton, Mayoral consort.